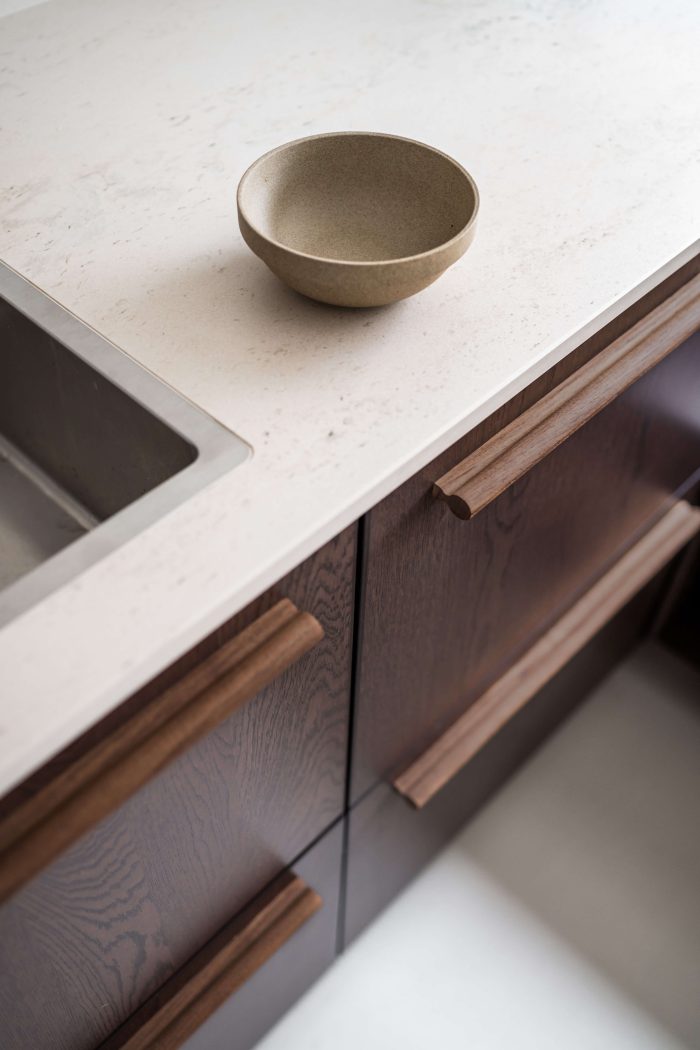 We are delighted that you are interested in our Custom Sticks. In our shop you will find a tool with which you can directly calculate the costs of your wooden handles. We are happy to give you some extra information so that you can easily make the choices. If you still have questions, please email us at shop@designstudionu.nl or contact us and we will be happy to help you.
Drill holes
Do you want to replace existing handles? Then measure the current drill holes by measuring the center of the screw to the center of the next screw on the back of the door or drawer. This is called the centre-to-centre distance.
It is good to know that the drill holes for standard handles are 32 mm or a multiple thereof. This is also reflected in our standard handles. For example, our size 2 has drill holes with a distance of 32 mm, size 3 128 mm and size 4 both 160 mm and 190 mm.
Are the handles intended for new cupboard doors, kitchen doors or drawers? Then the size of the drill holes can be anything. We recommend keeping a distance of 20 mm from the end of the handle. This prevents the drill hole and thus the handle from splitting. Just an example: if you have a grip of 600 mm, the drill holes would be 540 mm.
If the handle is longer than 700 mm, we add an extra hole in the middle.
Do you have special wishes or questions? You can indicate this in the comments field.
Planning 2023
You are probably curious how long the delivery time for customization is? On average this is four weeks. We work with very long lengths, sometimes up to 240 cm long, and we always have a stock of them. We make the custom size handles from these long Sticks and our stock has standard Stick sizes as well. Every four weeks we collect the orders from the workshop that were ordered the week before.
For 2023 these are the planned dates until the summer break:
custom orders ordered no later than Tuesday 10 January – shipping from 17 January
custom orders ordered no later than Tuesday 7 February – shipping from 14 February
custom orders ordered no later than Tuesday 7 March – shipping from 14 March
custom orders ordered by Tuesday 4 April  – shipping from 11 April
custom orders ordered by Tuesday 2 May  – shipping from 9 May
custom orders ordered by Tuesday 30 May – shipping from 6 June
custom orders ordered no later than Tuesday 27 June – shipping from 4 July
Treatment methods
The wooden products in our shop including Stick, Pegrail and the stool are untreated. We have chosen this because then all options for finishing the product are still open. Some customers choose to leave the handle untreated and allow the wood to discolor naturally through exposure to light and touch. This is of course possible, the wood will then come to life. Or maybe you want to have a handle treated with the color of the cabinet door. This is also easily possible with an untreated handle.
Others want to protect the wood against the aging process. We offer different treatments in our shop. You can read more about that here.