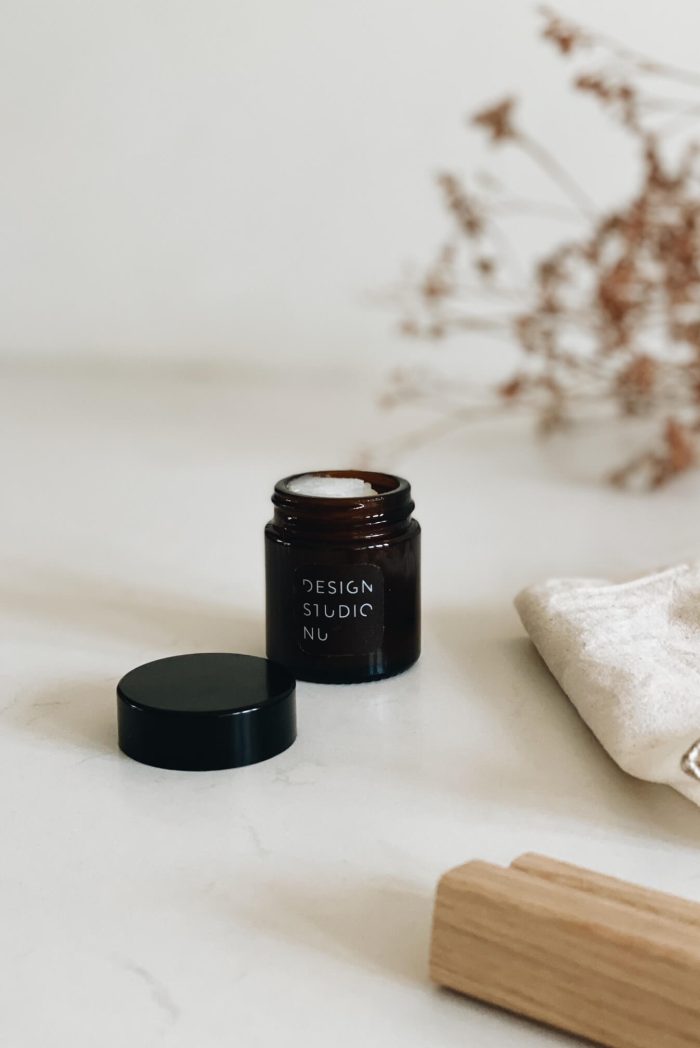 The wooden products in our shop, including Stick and Pegrail, are untreated. This way all options for finishing the product are still open. Some customers choose to leave the handles untreated and to allow the wood to discolor naturally through exposure to light and touch. Others want to protect the wood against the natural aging process. We offer three different ways of treatment in our shop.
Beeswax
Our cream-based beeswax is suitable for easy care and cleaning of all types of wood. Apply the beeswax in a thin layer with the supplied cloth. You can use hand heat to bring the beeswax to the desired thickness. Then let it soak in and then rub the wood gently with a dry part of the cloth.
Beeswax nourishes the wood. You can repeat the treatment over time. Because you apply the beeswax with a thin layer, the treatment with beeswax will only give a subtle discoloration.
The beeswax treatment package contains a jar with beeswax and a cotton cloth and costs 9,95 euros.
Oil
The treatment with our natural oil gives the product a different look. This wood oil makes the wood type deeper and warmer in color. You can easily apply the oil with the supplied cloth; the oil quickly absorbs into the wood. Pay extra attention to the ends and make sure there is enough oil on absorbent parts. Let the oil soak in for a while and brush off the excess oil with a dry part of the cloth. If necessary repeat the treatment with oil so that the wood is saturated with oil.
The oil treatment package contains a bottle with oil and a cotton cloth and costs 14,95 euros.
Osmo
For the light woods, including oak and maple, we offer this option for treatment with an untreated look. We work together with the products of Osmo. The oil and wax based products protect the wood from the inside. It forms a protective surface with an untreated appearance.
First apply a layer of Osmo 3041 with the supplied cloth. This layer contains white pigments so that the light woods, such as oak and maple, remain as they are and will hardly discolour. Then you sand the surface very lightly and make the wood dust-free. After this step apply a layer with Osmo 3062. Let it dry completely and the wood is protected for a long time.
This treatment is extremely suitable for the stool. Do not use a cloth but a roller to apply the layers.
The Osmo treatment package contains two containers of Osmo, two cotton cloths and sandpaper.