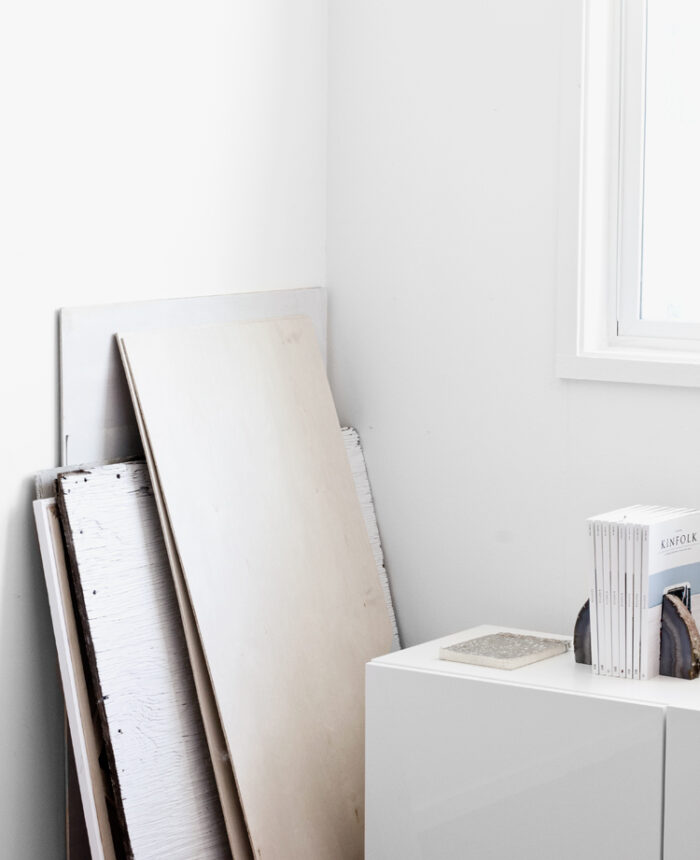 As promised we would keep you informed of the exciting developments taking place behind the scenes. And there are quite a few as you can read here. This time we tell you more about the process of making the studio next to Nathalie's house.
'For those who do not know the complete story, we first take a step back in time. Tessa and I started years back Nu interieur|ontwerp with an office in Pijnacker. After that we move to a nice studio in the center of Delft. We were really busy with our projects and the studio was empty to most of the time. So we took a leap of faith and said goodbye to a workplace and started to work flexibly. Which suits us well, we are working in different locations: at clients, from a nice coffee shop somewhere in the Netherlands and of course from our homes. This change increased the pressure on the houses a bit, especially with the equipment and stock for the shop.
Our house was at that time already a little tight. Bas and I form a blended family and lived in a nice and cozy town apartment in the center of Delft. The house was simply too small for a family with three children. We slept in one room with our youngest and the two older children were sharing their small room. A situation that called for improvement. During the sale of the house, we started the search for a larger home with preferably a workspace at home. And we found a fixer upper in 1961 on the outskirts of Delft. A spacious house with a sober architecture that we find so beautiful and with extras such as a garden and garage. The garage has its own address and has the perfect base to be changed into workspace. And so we started in 2017 with a small renovation. It was an exciting moment when we made the holes in the garage wall adjacent to our garden. But it went smoothly and all the window frames could be placed quite easily. Behind the old garage doors, we placed a large window and a wall to create space for cabinets. At this moment we are working inside the garage with electricity, the insulating underlay floors are ready and the walls will be quickly finished by a plasterer. With that in prospect comes the fun part: the interior.
The space is not very large: 2.5 meters deep and nearly 6 meters wide. We have a lot of natural light through the new windows and doors. We will add cabinets with lots of drawers behind the doors for the stock of leather handles and wrapping material. We will place a table in the middle of the room which gives ample place for a minimum of two people to work on. We made a design for a bookcase that is also a small desk. It is a place to work with a laptop or the orders will be packed. Under the desk we place a drawer unit for small packaging such as bags, stickers, postcards. Above it we make a soft inspiration board which images can be pinned on. This idea first has to wait, we are going to work in the studio and experience what we exactly need. Maybe we do need more desk space or more space for books and storage.
The color palette has soft bright colors with a light grey floor in a herringbone pattern, warm-white walls, beige tones and here and there a subtle black accent. We use natural materials such as oak for the table and cupboards. The linen curtains are simply hung with clips and wire. A chair, also with linen upholstery, is placed directly in front of the bookcase. This makes a lovely place to sit and get inspired. It is a lovely quiet work area with garden views.
We hope the next time we will back with a studio tour to show the result."