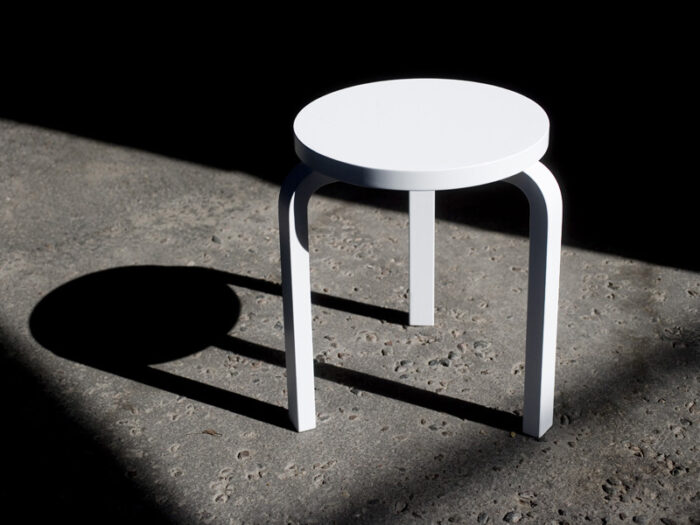 In October we wrote about the bedroom plans of Nathalie and Bas for the first time. If you want to read back that blogpost again, you can do that here. Today we zoom in on the further plans, we show a design that we will carry out in the bedroom and tell more about choosing Artek.
The execution
"In oktober waren het nog slechts plannen en nu, twee maanden later, is er een hoop gebeurd. De elektra is aangebracht door mijn vader. Een enorme klus omdat er op de zolder verdieping van ons huis uit 1961 slechts één wandcontactdoos en één lichtpunt met schakelaar aanwezig was. Dagen van sleuven hakken, leidingen aanbrengen en draden trekken volgden. Toen die klus geklaard was, konden we de laatste wanden dicht maken en direct daarop kwam de stukadoor. Ik weet dat veel mensen een hekel hebben aan het stof en viezigheid die stukadoren met zich meebrengt maar bij elke wand die met gips werkt afgewerkt maakte mijn hart een sprongetje. Wat werd de ruimte licht en mooi! Ik schilderde de ruimte en Bas ging samen met mijn schoonvader hard aan de slag met de afwerking. Zij plaatsten plinten en een kast achter ons bed. Vervolgens kon de wastafel en het bad weer op zijn plek en we konden na weken weer slapen op de kamer. En dat was echt genieten.
"In October it was only plans and now, two months later, a lot has happened. The electricity has been installed by my father, which was a huge job because on the attic floor of our house from 1961 there was only one wall socket and one light point with switch on this floor. Days of trenching, adding pipes and pulling wires followed. When that job was done we were able to close up the last walls and the plasterer came right in. I know that many people dislike the dust and dirt that plasterers bring, but with every wall that was finished, my heart made a small leap of joy. This room became so light and beautiful! I painted the room, beams, walls and floors. Bas and my father-in-law started working on the finish like a cupboard behind our bed and plinths. Then the washbasin and bath could be put back in place and after weeks we could sleep in the room again and that was really something we enjoyed so much.
Multifunctional and timeless
The advantage of executing the basic plan step-by-step and then following the rest, is that there is also room for small changes and additions. So we decided to not put the wardrobes back in the bedroom. They will be placed in a smaller room in the attic. And I missed a dressing table where I can sit for a while to put on some make up and such. That's why we made a design for a floating oak plank that can be used as a dressing table in combination with a stool. With the idea in our heads we were looking for a nice chair or stool. After thinking a while, our choice fell on Artek's iconic stool 60. Nowadays we prefer to spend a little more on something that can last for years. And this design is timeless and will appeal to me for years to come. You can also see in the design of the attic that this stool will have several functions in our bedroom. So it can stand at the dressing table but also at the bed as a bedside table (position 1) and at the bath as a handy table (position 3) for magazines and a nice cup of tea is within reach. Multifunctional, timeless and just beautiful: that perfectly matches our preferences.
Are you becoming curious about this bedroom? In the new year we will share an tour here and on Instagram I will soon be posting some pictures of the bedroom."