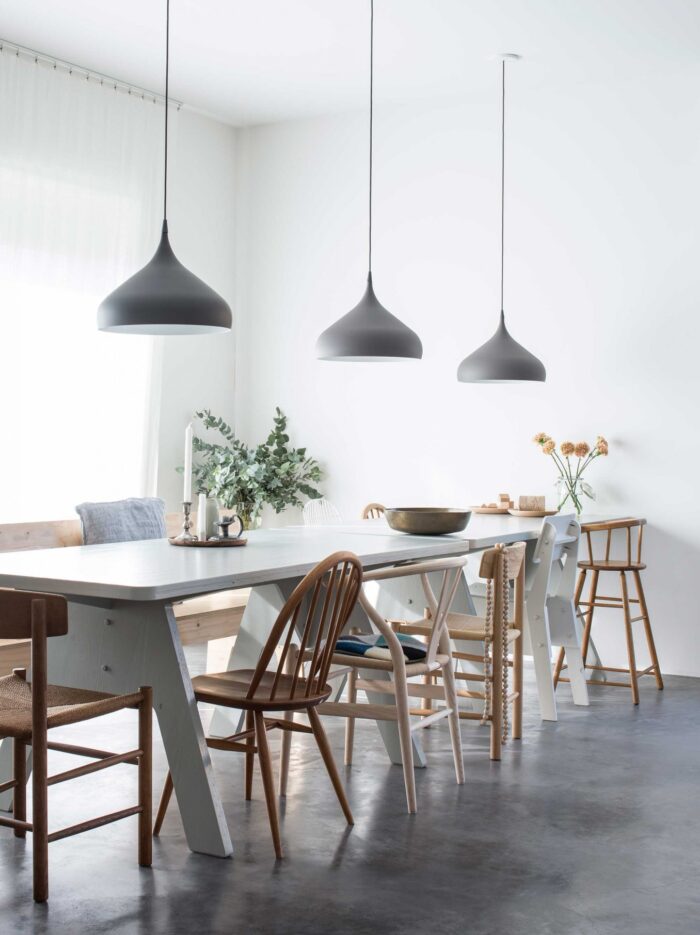 The dining table is in many homes the central place. People eat there, work,children make their homework or just chat with each other. This is exactly how it is at Nathalie's home. The size of the Nathalie family is not always the same, since she has a blended family. In the search for the perfect house the broker told her more families are looking for a home with room for flexibility. That gave us the thought to share our ideas with you because the design issue of Nathalie perhaps will inspire others. And now we are talking specifically about a blended family but the same situation applies to holidays such as Easter or as a family expands because the children take a friend home. So we answer this question: how can I ensure that the dining room is cozy and functional for different occasions?
The first setting is the basic setting. We chose a rectangular shaped oak table, four chairs, two stools and a dining bench. We chose four similar chairs but you can also choose for different chairs. The latter underlines the flexibility with this mix and match approach.
We made the designs with the same furniture that we put in a different formation. The different seating elements are further suitable for various purposes. Stools are also very useful as side tables and you push them near the table if more seating is needed. Moreover, children are just fine on crutches because they can move a little more.
The second design provides space for eight people. Three of the four chairs are on one side of the table. The other seat is next to a small bench. On the head of the table are two stools but that could be even more if the dinner guests get a bit closer together.
The third setting is an in between solution. In this design, the table is rotated a quarter turn, the bench seat is placed at the table with three of the four seats. The other chair we placed near the fireplace and combines well with the stool as a small table.
The latter setting is a variation on the basic setting in which we put the bench in front of the fireplace and put everything in a traditional arrangement on the long sides of the table.
We hope we inspired you to create a flexible dining room.What's your favorite design of the flexible dining room?