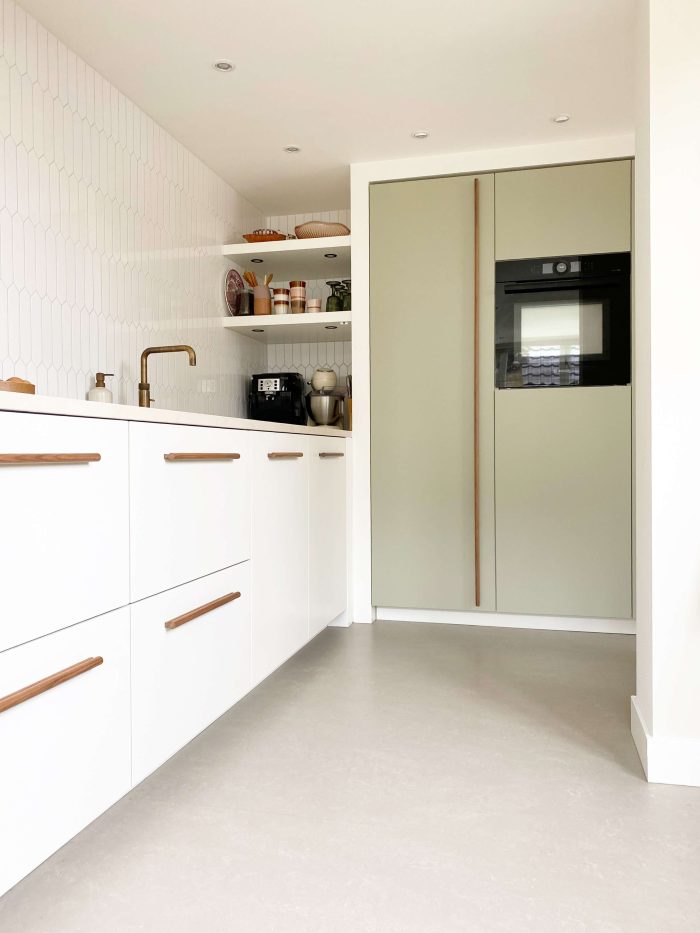 You can easily order our Stick wooden handles in the shop up to 1.2 m (behind the scenes we are working on making it easy to order larger sizes in the order tool, so soon possible)
However, we also make longer handles and we received a request from a furniture maker who makes kitchens. He wanted to use Stick Round in walnut in one of his projects with the size of 200 cm long. No problem and soon they were ready. Only transport was a puzzle at that time, so we decided to bring the Sticks ourselves so that they would arrive on time and in one piece.
After a while we received a message from Jolanda from Stoffeti Atelier. The long handles were used in her kitchen and she happily shared the results with us. We were also allowed to share the results here for inspiration. The effect of a very long handle is very nice.
Tip for a balanced look
We often get questions about the best dimensions and the placement of the handles in the kitchen. Besides the fact that there are endless possibilities and that it really is a personal preference and choice, this is a good example of one of the options. You don't have to choose the same long handles on all the cabinets. You can see that Jolanda has made a precise choice with a long handle on the high cabinet, one length of handles on the low cabinets and not even handles on the cabinets containing the oven. The whole is calm and balanced. Also more in general, consider whether your upper cabinets really need handles or whether you can and are willing to open them at the bottom of the cabinet door. If you have a drawer under the oven, we advise not to use a handle there so that the drawer looks like a blind panel. In most cases you only use that drawer very occasionally.
Do you have questions about the possibilities of the wooden handles? Leave a message here or send us an email. We are happy to help you. Do you want to order custom wooden handles? Then take a look at the shop here and follow the steps.