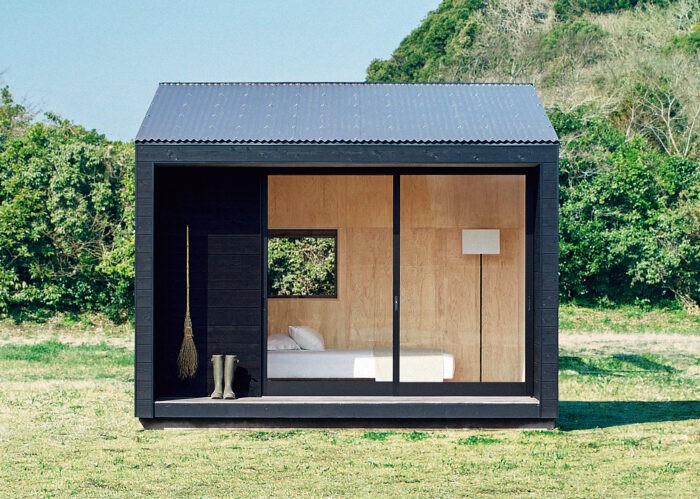 Years back, Nathalie was pregnant of her oldest daughter so about thirteen years ago, she entered a MUJI store in Paris. After a short periode we went back together and also Tessa was sold immediately. In this shop you will find everyday products without a brand but with attention to functionality, quality materials and simple packaging. In addition, the products are also affordable. And that combination makes MUJI so attractive. Unfortunately, there are no stores in the Netherlands. At first glance impossible to understand but if you think about it for a little longer, we of course have HEMA here in the Netherlands. And Dille en Kamille has similarities with the vision of MUJI as well. And, secretly, it's always a treat to visit a store if you're in a country where there is a store.
The MUJI brand is expanding further and after the shops, there are also concrete plans for a MUJI HUT. This autumn, only in Japan, the small minimalist houses are launched according to the MUJI concept. The idea behind this hut? That you can enjoy the outdoors in an easy way. Without the pressure of a second home. The website says it so beautiful: 'Put it in the mountains, near the ocean, or in a garden, and it immediately blends in with the surroundings, inviting you to a whole new life.'
We love this small cottage because we have the privilege of both having a cottage and therefore we know how great it is to have such a getaway. Especially when it's so beautifully shaped with burned cedar wood on the outside, Japanese plywood on the inside and a simple concrete floor.
Staying in such a beautiful cottage is not possible yet. But fortunately, there is a solution: staying at a MUJI HOTEL. You do need to travel to China or Japan but this is something that has been on our wish list for a while. At MUJI HOTEL you can enjoy the MUJI products and it is the perfect place to restore both your mind andy body.  In 2018, MUJI will open the first hotel in Shenzhen China and we are very excited how the interior will look.
Until then, we are planning a trip to one of the MUJI stores in Paris, London or Berlin and we made a list of our favorites. Like those nice pens: an absolute must. Everyone who writes with it simply loves them so we always bring a handful of it. Or the handy soapdispensers that you fill with soap and water, giving you  foam from the bottle. They are handy to get children excited to wash their hands well with soap. See also the shopping collage for more favorite products or take a look at the online store. This way you can also let them deliver the products at your home in the Netherlands.
Credits
All images and products via Muji