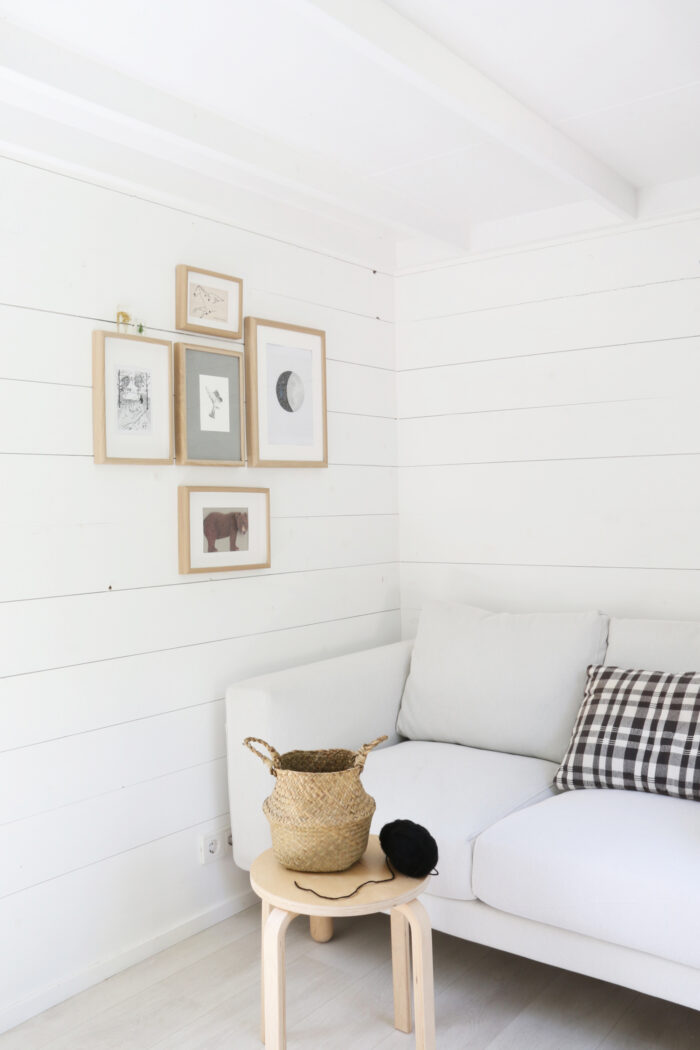 Do you remember that we wrote about the garden shed of Tessa earlier? We told about the whole process that preceded the building of the cottage and showed you the moodboards and the design. We were eager to show you the result with a mini house tour but things kept us from making photographs. Things like bad weather or the girls making a giant tent in it or we were just too busy with projects. But finally we succeeded and today we can actually show you the results.
Tessa designed the garden shed and her husband built it step by step exactly according to the design. The idea was that this would be an actual mini house for the three girls. They can hang around in it with their friends, can read quietly on the sofa, can craft at the table or even sleep on the bedroom floor. Tessa created various flexible solutions so the space adapts to the wishes and needs of the girls. The ladder to the bed is not fixed so it can be stored when not in use. From the table you have a fantastic view on the water. The reeds gives a natural shelter to the sun in the summer. The table size is modest and is easily moved away when more space is necessary or if more people want to sit around it. Tessa choose for stools and folding chairs. Those stools can be used as small tables as well and are stackable too. The sofa cover can be removed and be washed which is very convenient for a garden shed sofa. Martin made some solid hooks in the walls so the girls can hang even two hammocks in the tiny house. They enjoy the possibilities a lot and let their imagination run free.
The base is kept calm en light, as you may expect from us. Tessa painted the whole space white so the it is always spacious and bright, also in the winter period. The wooden accents make the space a bit warmer.  The white base is easily completed with various accessories. Everything matches with white and so Tessa and the girls can created different ambiances from time to time.
We are very curious what you think of the result. Would you like to have such a cottage in the garden and what would it look like? We would love to hear it from you so please leave a comment in the section below.
Credits
Design Garden Shed Design Studio Nu
Realization Garden Shed Martin en Tessa Weerdenburg
Photography Design Studio Nu