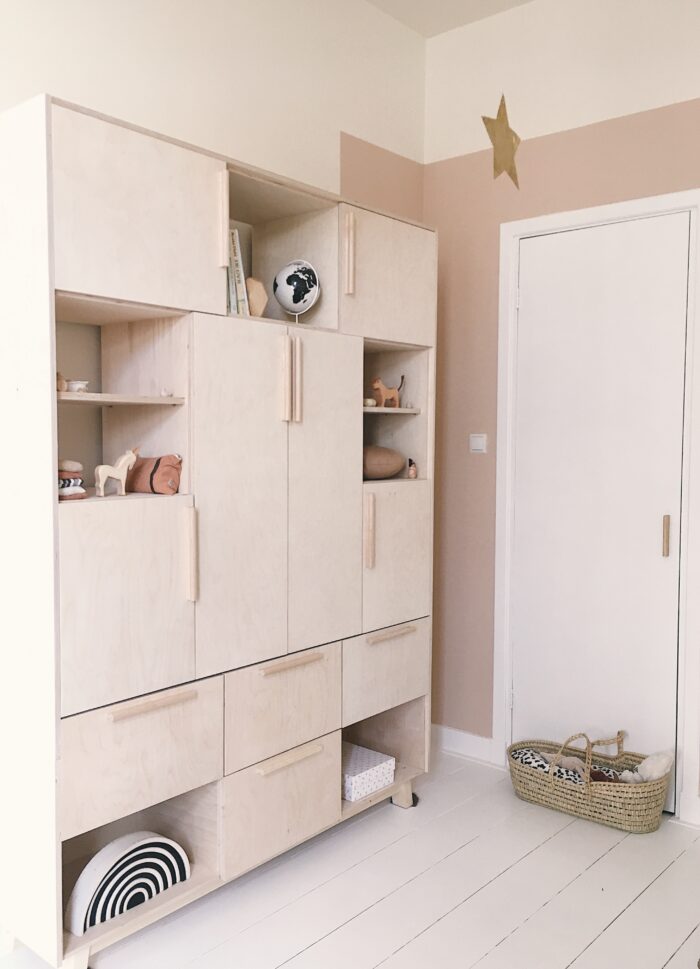 Oh, how happy we are to see our products in real life, with real people who consciously choose our grips to add a personal touch to their interior. We are happy and proud too, so let's take a look at the lovely home of Britt Hughan in this styled by blogpost.
Stick and plywood: a lovely combination
We like to work together with like-minded people. For example, we have been talking with Woodchuck for some time behind the scenes to join forces. Our products fit together very well. The grip Stick and their preferred plywood are a wonderful combination. They sometimes use Stick in their cabinet designs and regularly a client chooses our slim wooden handle. Britt Hughan did this as well. She chose a beautiful multifunctional cupboard for the nursery with Stick in size 3. The open compartments are perfect for creating space for favorite toys and the closed cupboards give storage space for a lot of things that are needed. A perfect balance if you ask us. We are also inspired by the warm shade on the wall. Britt mixed different types of paint herself and came out with this color. Together with the blond wood and the subtle color of rust, the room has a pleasant warm atmosphere. Do you also see that Stick is used on the door?
Do you want more inspiration? Then take a look at Britt's lovely and inspiring Instagram feed. She gives a glimpse into her family life with her two beautiful daughters. She also regularly organizes a fantastic auction through True Art of Giving. All proceeds from this auction go to Because We Carry.
Have you used our handles in your home? We love seeing the results so please send us an email with a photo or tag us if you post a photo on Social Media if you like to share it.